Home

/

Induction Slow Oates
Induction Slow Oates
Oates: The Oates algorithm is used for the non-urgent induction of patients requiring an INR of between 2.0 and 3.0. It cannot be used for urgent induction or for those patients who have a baseline INR > 1.3 or in those taking amiodarone. Reference: Br.J.Haem 1998; Vol 101: 450-454.

Warfarin Induction protocols have been designed to initiate Warfarin treatment in patients who are not currently taking Warfarin.
Before commencing ensure that 1mg tablets and/or 0.5mg tablets selected.
The patient's gender also needs to be added as on the 15th day of treatment the dosing is determined by INR and male/female gender.
Please click on the attached file to the right to view and print the Oates Slow Induction Flow Chart

Induction algorithms can be added one day after patient has started warfarin

For patients who are being manually dosed on induction, please see Manual Induction.
Firstly, you will need to add the patient's demographic details to the system. See 'Adding a new patient'.
Secondly, you will need to add the relevant clinical details and set the dosing method to an Induction protocol:

Click the 'Treatment Plans' tab and then the 'Clinical Details' tab on the patient's record screen to view the Treatment details screen.
Please Note: You will need to have Clinical Level 3 permission levels to perform and record dosing via Oates.

Click the 'Add' button.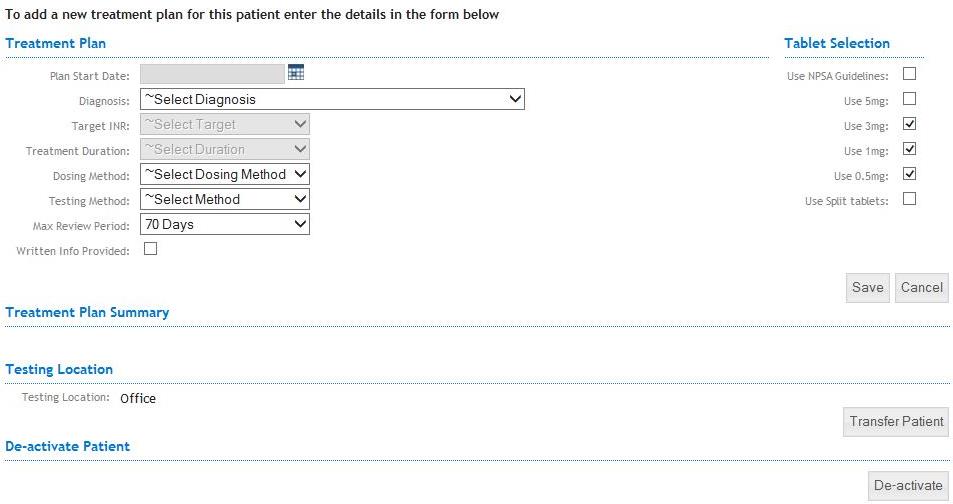 Select a warfarin start date from the calendar icon
. For patients starting an Induction protocol this should be today's or yesterday's date.
Select a Diagnosis from the Diagnosis drop-down list.
The recommended target INR and treatment duration will be added automatically.
Users with sufficient permission levels may edit the recommended values if needed.
Set the 'Dosing Method' to Induction by selecting 'Induction Slow' from the 'Dosing Method' drop-down list.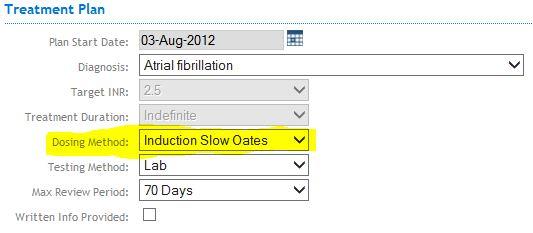 INRstar currently includes the Oates Induction slow protocol. Other induction protocols will be added in future releases.
Confirm that this protocol is suitable for your patient when the confirmation dialogue is displayed.


Select the appropriate Testing Method from the 'Testing method' drop-down list.
Select the warfarin tablet strengths appropriate for this patient from the 'Tablet Selection'.
Confirm that you have given the patient written information about anticoagulation treatment (eg. 'Yellow Book') by clicking the 'Written Info Provided' checkbox.
Click the 'Save' button to save the clinical details to the patient's record.
Or Click 'Cancel' to exit without saving.